ANDALÚ SEA EN EL III CONGRESO DE JÓVENES INVESTIGADORES
Andalú Sea Robótica Submarina participó en el III Congreso de Jóvenes Investigadores que tuvo lugar del 6 al 9 de septiembre en Motril. La inauguración estuvo a cargo de autoridades académicas y locales, a la que siguió la conferencia plenaria del Dr. Javier Ruíz Segura: "El Instituto Español de Oceanografía: investigación marina y servicios a la sociedad", y a continuación la mesa redonda: Proyectos CEI·Mar de Jóvenes Investigadores: Estado actual y retos para el futuro. Con el Dr. Juan Vidal y el Dr. Pedro Aguilera como moderadores.
A las sesiones, cubriendo mañana y tarde, con sus correspondientes moderadores y su correspondiente charla inaugural, les siguieron las exposiciones de los trabajos de los jóvenes investigadores, procedentes no sólo de Andalucía, sino también de otras comunidades autónomas de España, así como las actividades paralelas.
Todo ello se realizó en dos sedes: el Centro de Desarrollo Turístico y Empresarial del Ayuntamiento de Motril (CDT) y el Cubo Azul de la Autoridad Portuaria de Motril, debido a la enorme cantidad de participantes. Además, durante el congreso se expusieron posters muy interesantes sobre el trabajo realizado por los jóvenes investigadores.
TEMAS TRATADOS
Los temas tratados fueron de enorme interés para la profundización en el conocimiento del mar y la economía azul, pongamos como ejemplos algunos de los temas tratados el 7 de septiembre: la gestión integrada del mar; tecnologías del medio marino; el valor cultural del mar; la salud y el mar; la contaminación marina; global change driver effects on populations, communities, and ecosystems; human activities and marine environment; biodiversity; long-term dynamics in marine ecosystems and ocean dynamics.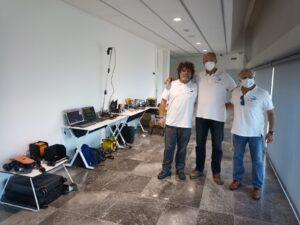 Este día tuvo lugar la intervención de Andalú Sea Robótica Submarina como entidad colaboradora, participando con una conferencia sobre robótica submarina: La Robótica Submarina como herramienta fundamental en la investigación de mares y océanos, por el Dr. Jose Luis Costa Krämer, Investigador Científico del Instituto de Micro y Nano tecnología CSIC. Dr. CC Físicas KTH Estocolmo y UCM Madrid, así como director científico del proyecto Andalú Sea, seguida de un taller demostrativo llevado a cabo por D. Gojko Kremenic Rodríguez, CEO y fundador de Andalú Sea Robótica Submarina, D. Maarten Meinesz. Ingeniero de Física Aplicada, director técnico del proyecto Andalú Sea y el propio Jose Luis Costa Krämer. Más tarde los jóvenes investigadores pudieron pilotar los ROVs en una zona del puerto de Motril.